Originally published on Burger Rehab
Suffering from sciatica can be a scary experience. With pain shooting through your lower back, buttocks, and legs, you might begin to wonder what exactly is causing all this discomfort.
Fortunately, sciatica tends to not require surgery and can disappear with regular treatments within a few weeks. However, it is important not to allow sciatica to develop into significant leg weakness or bowel and bladder changes.
How is sciatica developed?
Sciatica is often thought of as back pain, but the truth is that it also affects the buttocks and legs just as much as the lower back. Mayo Clinic describes the pain as something akin to an "electric shock" through the sciatic nerve pathway which includes the lumbar (lower) spine, buttocks, rear thighs, and calves.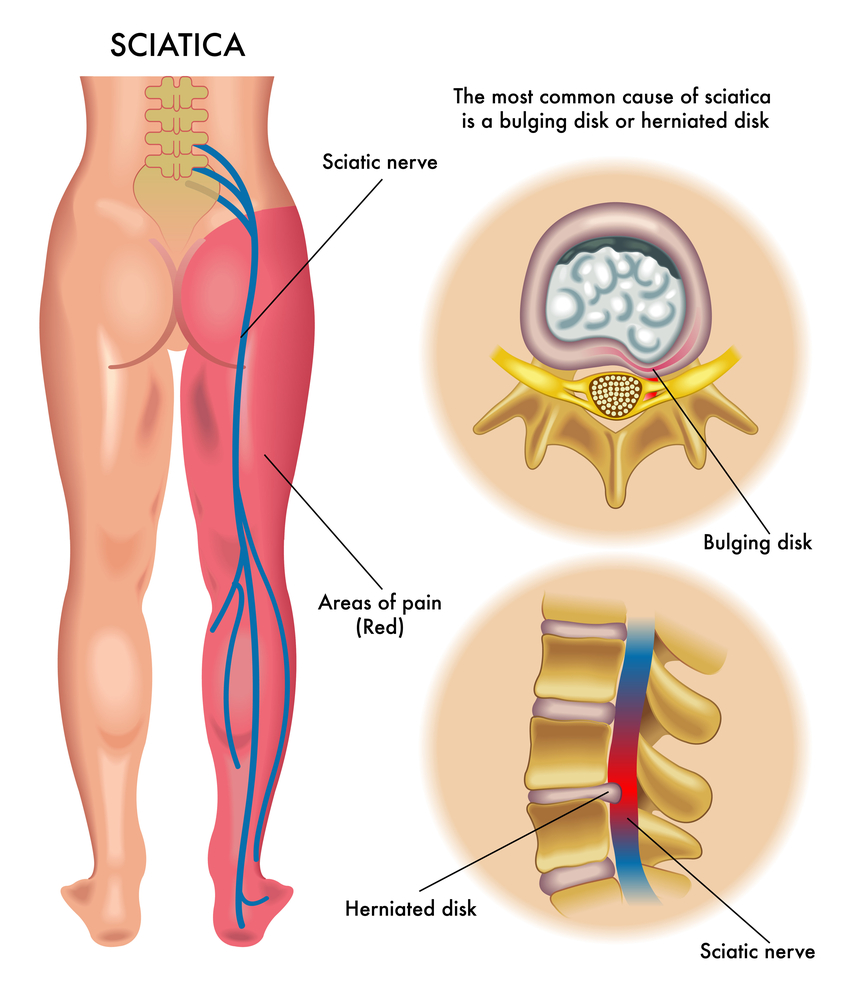 As seen in the above figure, the sciatic nerve runs through the lower back and travels down through the buttocks and into the legs.
Sciatica tends to occur when this nerve becomes compressed through either a herniated disc, spinal bone spur, or less frequently, a tumor. A compressed nerve leads to inflammation, jolts of pain, and numbness in the affected side.
Since it is unlikely that the sciatic nerve is compressed on both sides at once, pain from sciatica is usually experienced on one side of the body.
Again, it is important to visit a doctor if you experience severe pain or loss of feeling in your leg.
What factors put you at risk of developing sciatica?
As you age, you are at greater risk of developing symptoms of sciatica. Aging gives you a greater chance of experiencing a herniated or slipped disc, which immediately puts pressure on the sciatic nerve. Bone spurs are also more likely to develop in the older population.
Being overweight or obese can also increase the risk of spinal damage due to the increased pressure on the sciatic nerve.
People with a sedentary lifestyle or who otherwise spend a lot of time sitting down are more likely to develop sciatica. This could be due to a lack of exercise for the muscles in the lower back that work to keep the spine in place.
Being diabetic unfortunately increases your chances of nerve damage. The body's use of blood sugar can lead to damage to your sciatic nerve.
Lastly, having a job that involves prolonged periods of twisting the body, standing up, driving, or carrying heavy loads could play a role in the development of sciatica. For the rest of this article, we will look at how you can relieve symptoms of sciatica if you are an essential worker who has been completing physically-demanding tasks over the last months.
How you can relieve the symptoms of sciatica
As an essential worker over the last months, you have likely been putting yourself out there for the benefit of all of us. To all doctors, fast food workers, and construction workers (and many others!), we thank you.
However, you might be feeling the pinch after all these months of sustained effort. If you suspect that you are suffering from sciatica, here are some exercises recommended by doctor Mark Kovacs that can help to relieve the pain:
Reclining pigeon pose. This is a basic pigeon pose taken from yoga, and should be attempted before other types of pigeon pose. It works to flex your piriformis muscle which is often a culprit for pressing against your sciatic nerve.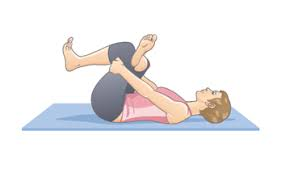 Fig. 2: Reclining pigeon pose. Credit: BestHealthMag
Forward pigeon pose. A slightly more difficult variation of the reclining pigeon pose, this involves stretching the piriformis muscle while kneeling on all fours.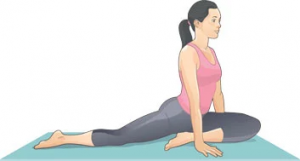 Sitting spinal stretch. Sitting on the floor with your legs extended and feet pointing to the sky, bend one knee and place that foot on the floor on the outside of your opposite leg. Gently use your hand to pivot in the opposite direction to the one your leg moved in, feeling a relieving stretch along the spine as the vertebrae decompress along the sciatic nerve.
Knee to the opposite shoulder. Grab one knee with your hands and lift it towards your opposite shoulder without going so far as to feel any pain. You should feel a release of tension in the buttocks.
You will notice that some of these exercises are more suitable for performing during your workday than others! However, they all aim to provide a release of tension to your hips and buttocks, providing some relief to your compressed sciatic nerve.
The most important thing to remember when attempting any pose is to stop if you feel any pain.
These stretches are supposed to feel like a relief from pain and tension in your sciatic nerve area.
You might find that light stretches and yoga poses are not enough to calm the pain of your sciatica. In this case, we recommend looking into creating an appointment with a physical therapist who can diagnose exactly what is causing compression in your sciatic nerve. They will also be able to recommend the best course of treatment for your discomfort.